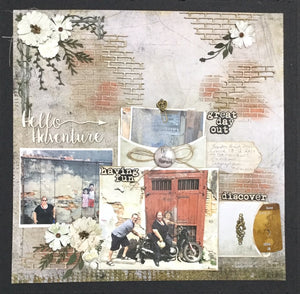 Designed by Sofie Rossides
With colour instructions.

Kit Includes - lots of pretty flowers, Paper Arts Paper, pockets for cruise tags or tickets and for extra photos. Also includes charms, stencil, small amount of wax, journal tags and sisal fibre.
Photos needed for layout -
1 x 13cm x 11cm (landscape) & 1 – 10cm x 9.5cm (landscape)
2 x 9.5cm x 11(portrait) - for inside pocket,  or sizes of your choice that will fit in the allocated space.